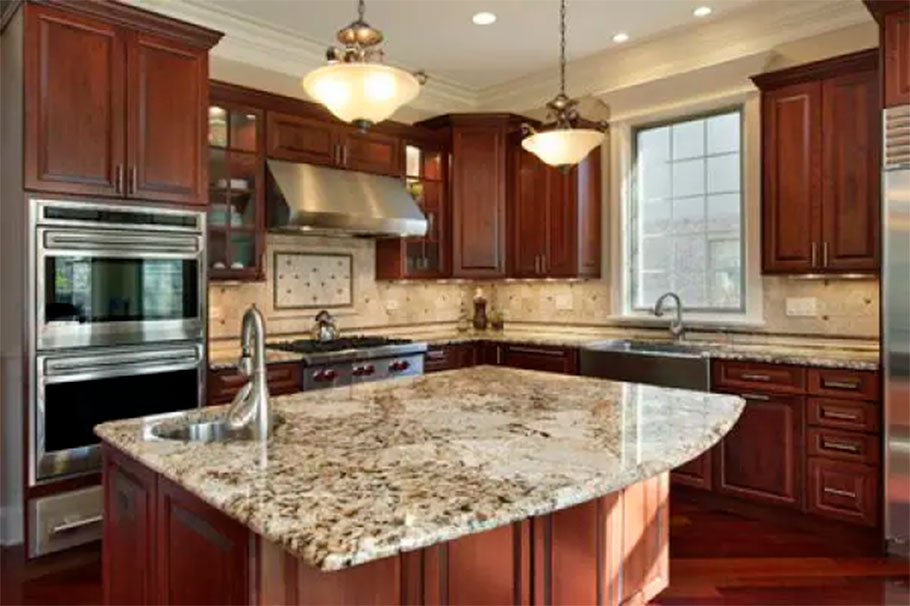 When building a home, redoing a kitchen or renovating your commercial space, kitchen countertop material might not be the top issue on your mind. But it's an important decision that will require some careful consideration.
What type of material you choose will depend on a few factors. Is this a kitchen in your home or a commercial space that you own? What is the design of the rest of the kitchen? How much does durability and future maintenance matter to you? With all of those factors in mind, here are some popular natural stone countertop materials that people often choose:
Marble
Marble countertops have remained popular in both the kitchen and bathroom for good reason: unparalleled beauty. Marble countertops tend to feature natural vein patterns and a soft texture. They're renowned for their durability as well and can withstand the heat of a curler or blow dryer without cracking. The downside is marble requires some upkeep. As a porous stone, it will take in liquids. It's important to clean up any spills quickly and to reseal it occasionally.
Granite
One of the perks of granite countertops is their versatility. They can be cut into nearly any shape needed to fit your kitchen and they come in any color you could imagine wanting. Like marble, granite is a strong and reliable material. But it's not nearly as porous so you don't have to worry as much as it getting wet. On the negative side, it's more likely to chip under pressure and needs to be resealed from time to time.
Quartz
Unlike the above two options, quartz is not a natural stone. It's actually engineered using crushed quartz, color pigments and polymer resins. This process gives the material a uniform look. Quartz is also a durable material and is easier to clean than other countertops. The main downside to quartz is it's not quite as good as dealing with heat as the more natural stones and has been known to fade when exposed to too much sunlight.
Quartzite
Quartzite countertops are durable and resistant to staining. They also don't require much maintenance. Once the countertop is sealed the first time, you basically just have to wash it with soap and water every once in a while.
Regardless of what countertop material you're looking for, MC Granite can help you find the perfect match for your home. We've installed more than 100,000 kitchen and bath countertops across Georgia, and we'd love for your home or business to be next. Contact us today to learn more about how we can help you.