Current Granite

Countertop Specials Back
FACE GRAIN CONSTRUCTION
Face Grain wood countertops are constructed using the width of boards. The surface of the top has a wide grain pattern that shows the natural ovals and swirls of the wood.
This technique is the least suitable for tops whose surface will be used for chopping or cutting, but it provides an elegant look to an island or countertop that does not double as a chopping surface. Strips run the full length of the top producing a very clean look with no butt-joints
Face Grain – Continuous / Full Stave
Our popular continuous-stave (plank style) face grain slabs make a gorgeous table-top design.
Board (stave) width is ~2"-5".
Standard thickness ~1 ⅝".
EDGE GRAIN CONSTRUCTION
Edge grain wood countertops are constructed using strips cut from wider boards which are then placed on edge and joined together. Mostly vertical (straight) grain lines are visible along the length of the wood.
Edge grain construction makes a hard and stable surface for island and counter tops. It is also a cost-effective alternative to end grain construction for chopping blocks.
Edge Grain – Finger Jointed
Enormously strong! Our finger-jointed edge grain design is highly warp resistant. Slightly more durable than plank-style products for kitchen worktops. Can also be built up for double thickness design effects!
Board (stave) width is ~1 ½"
Standard thickness is ~1 ⅝".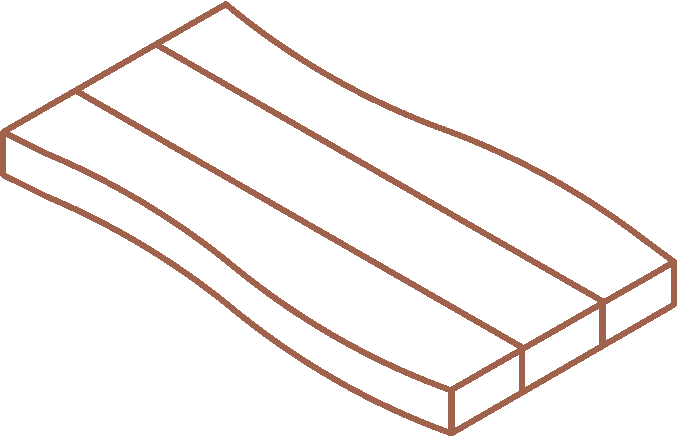 Incorporates natural edge of the wood & retains organic shape.
Natural & unique imperfections add character.